If you haven't noticed, North Salem is home to a Pop-up bike lane this summer.
For six weekends, from mid-July to the end of August, the inbound side of North Street will have restricted parking to allow for the pop up bike lane.
The announcement from the city read:
This Summer, the City of Salem, in concert with residents, business owners and other local placemakers, is working to identify a series of pilot projects that will help improve access and use of public areas on entrance corridors, streets and downtown parking areas. While traffic and parking are key issues in our community, we tend to lose site of the fact that people are coming to Salem not to park, but to spend time doing stuff – eating, walking, visiting, playing, shopping, people watching, etc. We are hoping to share some of the spaces that today are dedicated primarily to cars and allow more of the 'stuff' that people enjoy to take place in these locations.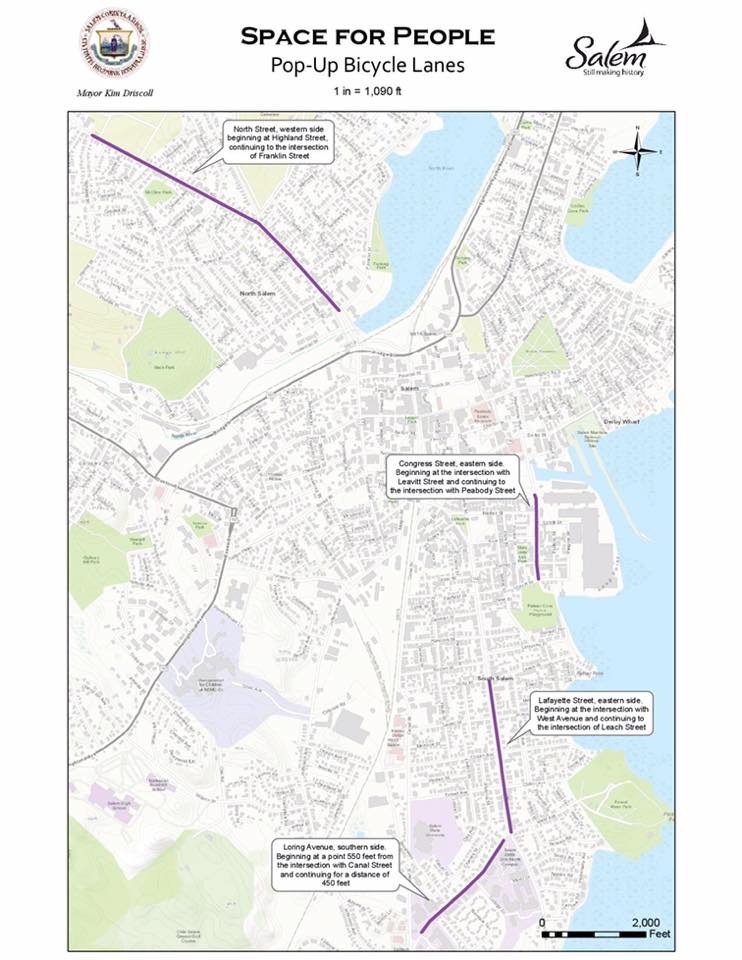 Since the bike lane is temporary and protected, the inbound side of North Street is entirely "No Parking" during the duration of this trial.
North Street is a mix of residential and commercial properties, primarily residential west of School Street. The complete removal of parking while only temporary now would not make sense on a permanent basis in my opinion.
Prior to the start of the pop-up bike lanes, this topic was discussed at the Traffic and Parking Commission Meeting on June 20th. (Meeting minutes here). The mayor also held a meet up downtown on a Saturday to discuss and gather feedback.
One comment I have heard often regarding biking on North Street (and it was consistent feedback on the Northfields traffic and parking meeting survey) is that residents do not see bikers on North St very often – it is too dangerous and they often ride on the sidewalks. I feel that this is a great testimony to the real need for safe and proper bike lanes in North Salem, with a true connection to downtown.
What will the permanent bike lanes actually look like? How much parking will be lost? Those are the pieces that need to be followed closely with feedback provided.
I fully support bike lanes in North Salem. I believe feedback needs to be taken in from those that live in North Salem during the design process and I am working hard to help facilitate that.
In the mean time, let's enjoy the pop-up bike lanes!